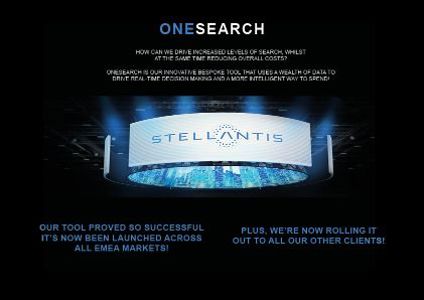 ---
STELLANTIS: Driving Human & Artificial Intelligence
Performics @ Starcom
---
Client: Stellantis

National lockdowns in 2020 and the start of 2021 presented challenges and opportunities for clients like Stellantis. As a multinational automotive manufacturing corporation, Stellantis faced plant and dealership closings, along with a drop in demand for vehicles. As a result, the search landscape became more competitive than ever before, making customer acquisition a huge challenge.

Faced with this challenge, Stellantis asked us: how can we drive increased levels of search, whilst at the same time reducing overall costs? That's when we came up with our big strategic idea: OneSearch. OneSearch is our innovative bespoke tool that uses a wealth of data to drive real-time decision making and a more intelligent use of spend, allowing us to act quickly and dynamically to changes in search.

The implementation of OneSearch led to an double-digit overall cost saving of and proved so successful, it's now being rolled out across the EMEA markets. It has also become the foundation of our automated bidding, cementing it as our OneTeamStellantis core strategy.