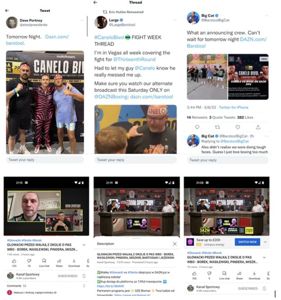 ---
Affiliate: Game. Changed.
Partnerize
---
Client: DAZN

DAZN is a global over-the-top sports subscription video streaming service. Key markets include Germany, Italy, Spain, Japan, Canada, UK and the US.
The DAZN affiliate programme was set up in partnership with Partnerize to fuel ambitious growth plans and enable a strategy centred around driving new, high quality subscribers by working with the world's leading sports content creators. This enabled DAZN to provide an incremental revenue opportunity for their partners, which cemented a true 360 degree approach focused on demand generation, education, engagement and conversion. DAZN's affiliates are not your usual suspects. They're handpicked based on their strategic audience affinity and approached to work with DAZN in a fully-integrated across the subscription funnel. Working in tandem with local media specialists in core markets, we identified the largest, tier 1 media partners and creators. Affiliate commission wouldn't be enough to form the basis for a meaningful relationship. Bespoke tactics and initiatives: media investment, content sharing and development, and access to talent and events, were incorporated to form a fully-integrated 360-degree approach. The affiliate strategy centres around high-quality content creators with large, high-affinity audiences creating long-term partnerships working for both sides. In executing, it was important to maintain high volumes of customers that delivered a positive ROAS, reached new audiences, were native, and added value to users. This submission examines specific, innovative content strategies used across core markets in the last 12 months. These examples contributed significantly to the percentage of subscriptions driven to the business while ensuring a positive ROAS.