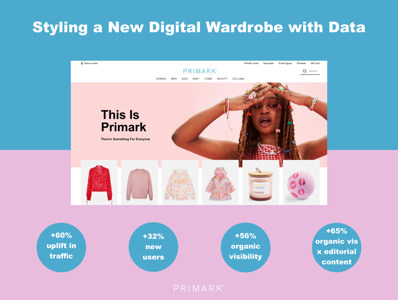 ---
PRIMARK: Styling New Digital Wardrobe With Data
Performics @ Starcom
---
Client: Primark

Primark successfully built their retail business without any ecommerce for 50 years. But in 2022 customers expect the same standard of user experience online as they do on the highstreet, which is why Primark needed a content strategy and website built for the digital era. But here's the catch: without existing ecommerce functionality, Primark lacked the not-so-secret ingredient to user experience success: 1st party online data.

In a typical Starcom brave play, we found an alternative source of data in the form of Intent Based Planning (IBP), our proprietary machine learning tool that uncovers user behaviour based on Google search data. Going to Google, users express exactly what they are looking for, in their own words. These searches create a data trail for us to collect, model and interpret - giving us an invaluable insight into the motivations driving each click.

Armed with a wealth of user behaviour knowledge ranging from the latest fashion trends to the most wished-for items, topics and inspiration content - we devised a robust content strategy with the aim to position Primark's new website as a source of inspiration for fashionistas. We did so by mapping out their consumers' journey, boosting discoverability by optimising product category pages & blog content, and creating an information architecture model with a user-first approach.

Our data-driven content strategy aligned with user motivations, driving an influx of excited users to Primark's new sleek website, resulting in a significant boost in performance metrics.