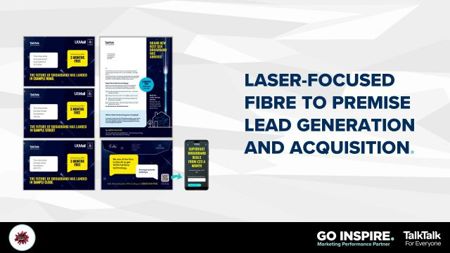 ---
Laser focused fibre to premise lead generation and acquisition
Go Inspire Group
---
Client: TalkTalk

To support their first-to-market strategy of offering 100% Full Fibre-to-Premise (FTTP) connection, TalkTalk challenged us to identify their perfect target audience and use a laser focused approach to acquire new customers through the direct mail channel, reducing Cost Per Acquisition (CPA) in the process.

To enable a laser focused targeting approach, a database profiling the status of every individual household in the UK was developed from publicly available data and inferred consumer behaviour applied. The UKs FTTP footprint was overlayed and unsuitable/ undesirable households removed, leaving an untapped selection of prospect properties to mail.

To maximise standout and engagement, TalkTalk's personalised digital envelope mailpack included the recipient's street name in variable colour.