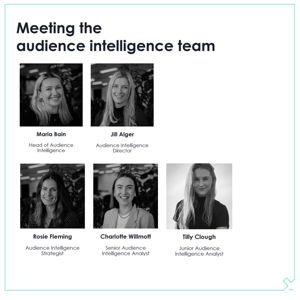 ---
iCrossing UK
---
Audience Intelligence at iCrossing

'Audience-first' is the most overused buzzword in digital marketing, but in 2022, iCrossing made the word a team. The Audience Intelligence team, lead by Maria Bain, Head of Audience Intelligence, is a small but perfectly formed squad of audience-obsessed directors, strategists, and analysts. They take hyper-relevant agile digital data from survey, search and social listening and make it strategic, tactical, and actionable.

The team has had an incredible six months of growth. Officially launching in April the team's outputs have become an integral part of new business pitches, client's annual and ongoing digital plans and, in numerous cases, the foundation for digital strategies, new channel launches and product developments. In the last 12 months, the team has impressed clients, smashed client deliverables, maintained MoM revenue growth, raised client revenue across key accounts, and built a new and highly profitable department revenue line.