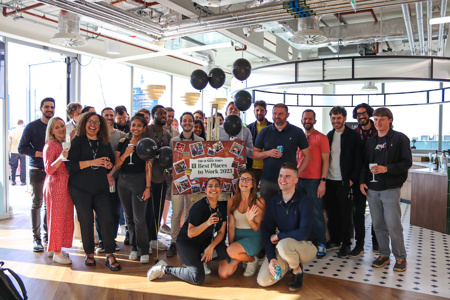 ---
Croud
---
Croud is a full-service digital marketing agency that leverages a unique business model to deliver more for some of the world's leading brands.
Founded in 2011, Croud combines a team of some 480+ in-house digital marketing experts with a global network of 2,000+ on-demand specialists known as 'Croudies' to deliver the global scale and digital marketing expertise that brands need to grow.
Croud has marked a new chapter, as we've delivered continued growth, including through the acquisition of global social media agency Born Social in November 2022. We also opened our first office in MENA, welcoming global telecoms company Ooredoo into our client portfolio, and strengthened our senior team in the form of Audrey Lucy, Croud's first ever Chief People Officer, and Google evangelist Avinash Kaushik as Chief Strategy Officer.
As well as growing revenues by over 40% year on year, and bringing on board multiple new clients, we've continued to strengthen our client relationships and focus on delivering award-worthy work - resulting in an NPS score of 52 globally.
Most importantly, we've continued to invest in our greatest asset, our team. We launched our third annual D&I report, encouraged endeavours to produce innovative work and tools, and championed our team as experts in their field. Our success over the last 12 years has been driven by our people, and thanks to this continued focus on our team, Croud was recently included in the Sunday Times Best Places to Work 2023.